Match summary:
An incredibly open match – Chelsea's long passes exposed the space behind Arsenal's backline, but Arsenal managed a comeback from 2-0 down through intelligent cutbacks out wide. However, they conceded territory and pressure in the second half, allowing Chelsea's substitutes to win the game.
Initial set-up:
Maurizio Sarri stuck with the starting 11 and formation he used against Huddersfield, which meant Eden Hazard and Kovacic remained on the bench as impact substitutes. For the away team, Unai Emery made two changes – Nacho Monreal came in for an injured Maitland-Niles, and Alex Iwobi came in for Aaron Ramsey, who'd worked hard off the ball but didn't provide enough of a spark on it against City the week before.
Formation-wise, both managers continued with the ones they'd used last week; Chelsea lined up in a 4-3-3 with Jorginho playing the role of midfield regista, and Kante and Barkley as midfield runners, while Arsenal used their 4-2-3-1, with Ozil moving into the no. 10 position, Mkhitaryan now on the right, and Iwobi on the left.
In-game tactical points:
Arsenal's approach
One of the more notable things in this match was that Arsenal played differently against Chelsea, compared to City – it's entirely reasonable for a team's tactical approach to change according to the opposition, of course, but Sarri's preferred style of football isn't entirely dissimilar to Pep's. Playing Ozil in the no. 10 position over Ramsey indicated that Emery favored a more progressive approach today.
The inclusion of Iwobi also meant Arsenal's central and attacking midfield lines were packed with 5 playmakers. With Kante further up the pitch, and Jorginho the deepest midfielder, it seemed Arsenal's plan was to bypass the press with two deep-lying passers in support, then overload the space to either side of Jorginho with multiple runners.
However, all of this had two knock-on effects. One, Monreal and Bellerin needed to provide width (and an extra passing option) and thus moved forward in support, and two, the entire defensive line played higher up than they did against City. This would prove key later.
Chelsea's approach
With Arsenal playing on the front foot, and their midfield format perfect for man-marking Chelsea's (as is the norm when a 4-2-3-1 is used against a 4-3-3), Jorginho, the key player in Sarri's iteration of Chelsea, was actually somewhat peripheral. Ozil would usually mark, or use his cover shadow to block any passes into him. However, Ozil didn't always do this perfectly, and Jorginho varied his positioning well enough to receive the ball and then spray a pass forward, mostly to the left.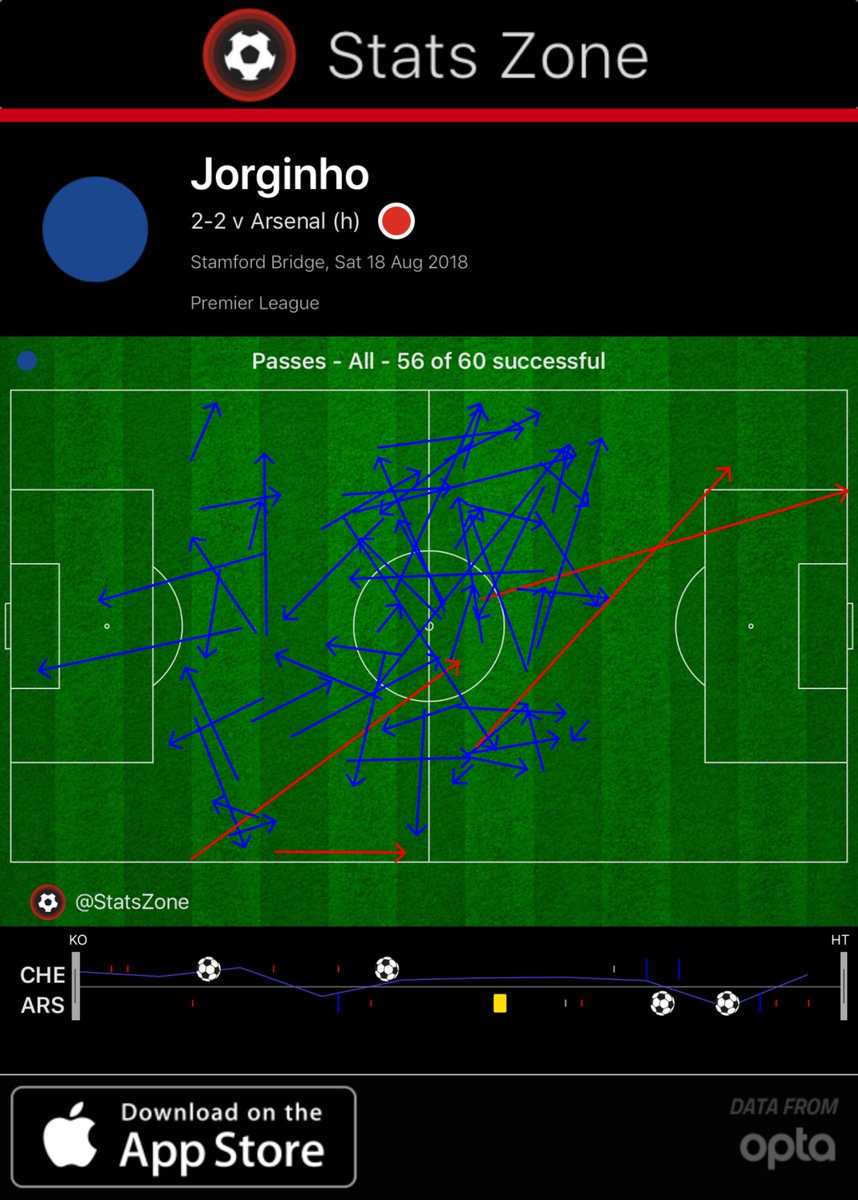 There were two promising moments; one when Barkley made a run that broke Arsenal's offside line, and the other led to Chelsea's opening goal. He was constantly directing the other Chelsea players as well, and at this point he is probably their most important player – without him, there is no 'technical leader' who can instruct the others as to what Sarri wants on the pitch.
But more intriguingly, Luiz stepped up in his 'Bonucci' role for Chelsea. While the Brazilian defender was considered surplus to requirements under Conte, Sarri has been keen to include him in the opening two matches in a more pass-oriented team, since he provides a backup option to circulate the ball forward, if Jorginho is closed down. No Chelsea outfielder made more long balls forward than he did, and it was common to see him bring the ball out from the back, before launching it from a left-of-center position in midfield.
Further forward, Barkley and Kante played more limited and functional roles, namely to burst forward in support as midfield runners. Kante in particular came close to scoring, but also managed 3 key passes in and around the penalty box. They weren't through balls, just simple backpasses,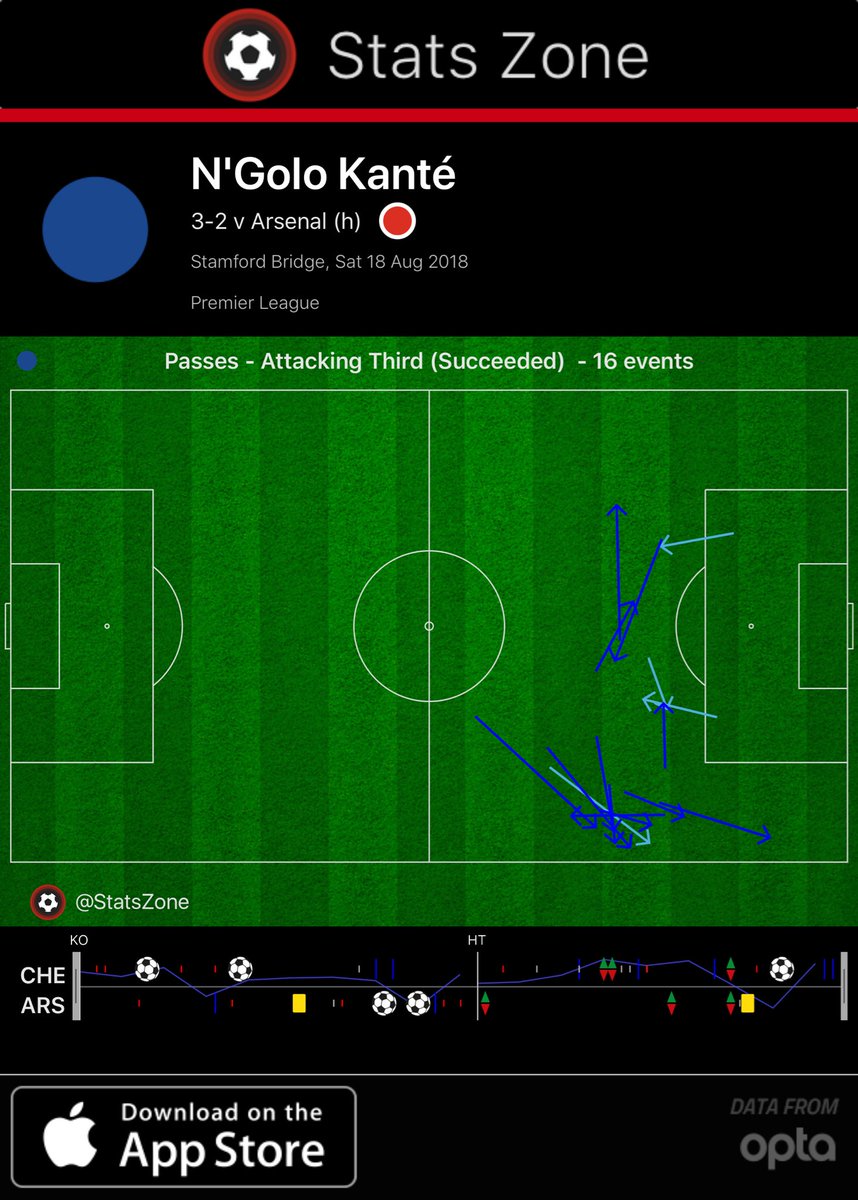 but his movement forward was helping to create chances. This was useful as Morata was coming towards the ball, dropping deep to link up play
instead of sprinting in behind; it meant there was always a penalty box threat.
The nature of Chelsea's full-backs also meant that they tended to attack down the left – they directed 48% of their play down that flank, another factor in how they ended up scoring.
How the goals happened
The first goal came within 9 minutes, and three factors contributed to it – Arsenal's attacking full-backs, Chelsea's play down the left, and Jorginho's distribution. Bellerin got tight to Willian, was dragged into midfield, leaving a gap open for Alonso.
More interestingly, Ozil, instead of shadowing Jorginho, jogged towards Willian, leaving Jorginho free to receive a pass,
and Alonso free to make a run which ended up with Pedro moving into a center-forward position and scoring.
The second goal came 11 minutes later, and from a more frustrating source – Aubameyang fired over when presented with a clear-cut opportunity, allowing Chelsea to build up play, then fire a long pass via Azpilicueta to Morata – who was isolated in a 1v1 with Mustafi.
Goal, and it was 2-0 when it could have been 1-1. The primary mistake here was keeping a high defensive line without an effective offside trap, but had Aubameyang scored, it wouldn't be an issue.
Still, that missed opportunity was an indicator of Chelsea's own weaknesses – namely, cutbacks. Rafa Benitez has said previously that there's been an increase of goals via cutbacks, and Arsenal experienced it firsthand, via Bernardo Silva's goal last week. While Chelsea were winning, the combination of Luiz – Alonso down the left side of their defense meant there was space in behind to exploit.
Aubameyang's miss was the first clear sign; Guendouzi's gorgeous diagonal pass bisected the space between Luiz and Alonso, allowing Bellerin to get in the box and cut the ball back. But it wasn't the only one. Mkhitaryan would later miss a similar opportunity, this time from Iwobi's cutback.
Eventually though, Arsenal managed to score, and it showed the blueprints of their new gameplan well. Monreal pressed Willian, started a fast break that ended with Mkhitaryan finishing from outside the box. For a side under pressure after 'controversial' tactical decisions (passing out from the back, high defensive lines, omitting key personnel), this was perhaps, the first key sign that Arsenal are beginning to flourish under Unai Emery.
The second goal came from a cutback again. Bellerin's movement drew Chelsea's defenders narrow, allowing Mkhitaryan to move out before assisting Iwobi – who had a good game – for his goal. It was now 2-2, and despite the comeback, Arsenal had actually been the better side; Jorginho couldn't deal with two no. 10s drifting inside (plus Ozil marking him), and Alonso couldn't deal with Mkhitaryan and Bellerin's runs forward.
Second half, and substitutions
Both teams came into the second half with a point to prove, but instead of the end-to-end football in the first half, Emery decided to sit back and soak up pressure – perhaps to prevent more long balls over the top. Out went Xhaka (who was on a yellow), and in came Torreira.
This however, ended up putting Arsenal under too much pressure, and Xhaka's absence perhaps had something to do with it. While he was justifiably taken off (going down to 10 men at this stage would have been worse), his passing out wide had been a vital part of Arsenal's gameplan. While Guendouzi and Torreira did their best, both are still new to Arsenal – it's safe to say that Xhaka's experience is probably required for now.
But key to the second half were the substitutions both sides made. Emery had brought on Torreira, but later on brought on Lacazette and Ramsey, the latter to provide more of a push. In Emery's own words: "We were defending too deep and we needed a push, so for that I brought on Aaron to push up more and recover the ball to continue attacking."
Sarri brought off Barkley for Kovacic, Willian for Hazard, and Morata for Giroud – perhaps some of the best substitutions you can make when trying to open up a defensive team. The former two proved crucial to establishing Chelsea's second-half dominance; Kovacic played very wide, basically a wide midfielder, and linked up well with Hazard, who made the joint-most dribbles in the second half and provided 3 key passes, one of which assisted the winning goal. This time, Chelsea took a page out of Arsenal's book – Lacazette's pass is intercepted, Hazard and Alonso link up on the left wing, the latter moves into the box before receiving a cutback from the former and finishing.
Arsenal pushed for a late equalizer, but their only shot came from a speculative Aaron Ramsey effort from outside the box, and ex-Gunner Olivier Giroud actually came closer to scoring than his previous side.
Conclusion:
Emery will have been disappointed to lose this match – Arsenal managed 4 big chances in the first half alone, and only scored from one. Unlike City, Chelsea were beatable and ultimately, Arsenal weren't clinical enough with the chances they were given in the first half, and were too passive with their approach in the second. However, Mkhitaryan was truly excellent this match, and Arsenal's wide deliveries held promise.
Chelsea did well to win this, however there are key issues with their setup. Alonso, despite his goal and assist, couldn't deal with Bellerin and Mkhitaryan defensively, and alongside Luiz, he's a clear weakness to be exploited. It may also be worth considering having Kante as the pivot in matches where Chelsea have to play more cautiously – while Jorginho's passing from deep is important, Luiz can also provide that, and Jorginho higher up, alongside Kovacic, would mitigate the issue.