After one of the most timid and humiliating performances ever in Europe by Manchester United against Sevilla in the Champions League, questions need to be asked about Mourinho's future at the club. Although he signed a new contract recently, bowing out to a team like Sevilla in such a disastrous manner is a huge blow to the Jose Mourinho project at Old Trafford. Unless, United embark on a disastrous run in the Premier League, they should finish in the Top 4 comfortably and if that happens, expect Mourinho to be incharge at Old Trafford next season. But is it worth having Mourinho at the club when it is clear that the club's ethos, traditions and philosophy are not in sync with the manager?
Philosophy
"I do not worry about conceding goals because I know my forwards will double it at the other end." – Sir Matt Busby
Lot of Mourinho apologists have claimed that even Sir Alex Ferguson "parked the bus" in many games in the latter half of his career especially in the Champions League. But playing such negative and timid football over 180 minutes against a side who have a negative goal difference in their domestic league is simply unforgivable at any big club. Even last season, the football was terrible at times and United's attack had no coherence or strategy, but the trophies arrived, so all was forgiven. But this season even after adding new world class attacking players, there has been absolutely no sign that there has been an improvement. United still don't have a specific attacking style, which is really surprising given that all of Mourinho's previous teams were deadly on the counter. They rely on the individual brilliance of their attackers which is not something a top team can afford to depend on every match, and other than that they just hoof the ball forward.
Transfers
Jose Mourinho embarked on an expensive signing spree as soon as he took charge of Manchester United. For someone who used to get the best out of his players, many of his signings have actually declined. Paul Pogba's cameo against Sevilla was simply atrocious, there is no other way to describe it. For a player who was already playing at the highest level representing his club and country in major finals, the last two years have been a disaster. Other than the occasional glimpse of brilliance, Pogba has failed miserably at United and currently seems to have hit the bottom. Alexis Sanchez is another signing who looks completely lost in this side, and at 29 years old will only decline further. Financially, the deal didn't make any sense but most of United's transfer business after Ferguson left don't make sense. Romelu Lukaku and Nemanja Matic have been decent but United considerably overpaid for them, especially for Lukaku. We haven't seen much of Victor Lindelof yet, but early signs indicate that he would join the long list of transfer flops at United since Ferguson left.
Blame Game
Sir Alex Ferguson after various defeats used to blame the refs, media, players and sometimes even himself. But he never belittled the club nor the fans who watch United every week at Old Trafford. Mourinho has already criticised the fans at Old Trafford complaining about the atmosphere, but he does have a valid point as United fans are not the most vocal. But in his post match press conference after the Sevilla game, Mourinho pointed out that for United going out at this stage in the Champions League is nothing new and he himself had beaten them twice.
 "I've sat in this chair twice before, with Porto – Man Utd out, with Real Madrid – Man Utd out, so this is nothing new for this football club."
This has to be the final straw for the fans, no manager is bigger than the club he is managing. Mourinho prefers to belittle Manchester United rather than taking the blame for such a terrible performance on the pitch. Even for Mourinho, this is shocking.
Tactics
Even though Mourinho has been criticised throughout his career for his playing style, he was an astute and a brilliant tactician especially in the big games. His teams generally play with a low block and their defensive organisation is such that the opposition's strengths are nullified. We have rarely seen that level of performance from this United side except in a couple of games notably the Chelsea game at Old Trafford last season. David De Gea has been the single biggest reason for United's good defensive record and not United's defence themselves.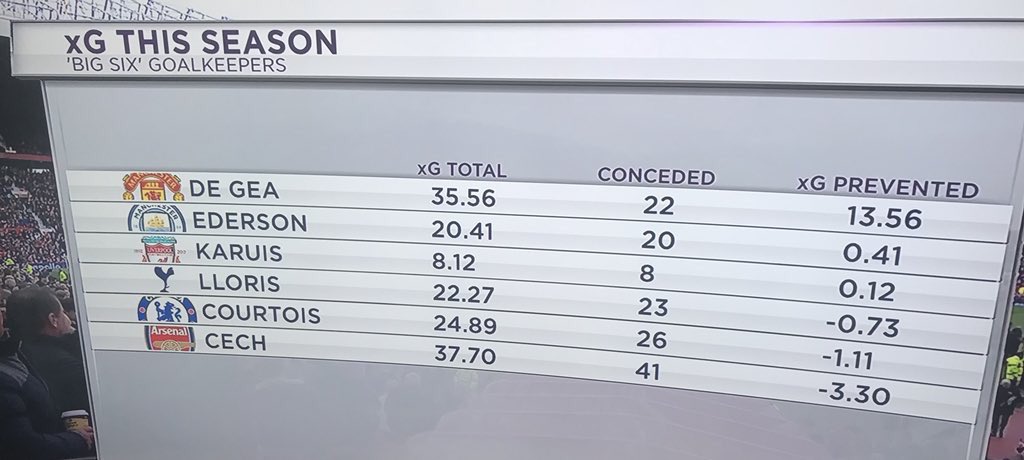 No other goalkeeper in the league even comes close to De Gea. Even though the xG model is not 100% accurate, it gives us a good indicator on how a team/player has been performing. So tactically, Mourinho has not been able to sort even his defence out. United's back 5 are really poor at building attacks especially against teams which press high. As the Premier League features many teams which press high and have the ability to build attacks from the back, Mourinho has struggled to adapt to this change. United don't press and nor do they have any sort of a coherent strategy against high pressing teams. Has modern day football left Mourinho behind?
All said and done, United are still in the second position in the Premier League which would comfortably be their highest finish after Sir Alex left. Mourinho will get more money to spend in the summer and would probably mount a better challenge in the league next year. But are United fans comfortable with the Portuguese in charge? His policy of buying ready made players in the prime will definitely hurt United a couple of years down the line. How much are the board willing to back Mourinho in the market? And is it worth having a manager whose ego is so huge that he is ready to shift the blame on anybody including the club but on himself?