Having frozen out by Pep Guardiola over a serious row between the manager and Toure's agent, Yaya has seen City career take a complete u-turn. When he was left out of the champions league squad for group stages on September 1st, everyone predicted his end at the club. But the man himself apologized in the first week of November and has now become one of the most important players for City's challenge this season. He has gone from being neglected to almost undroppable in the space of six weeks.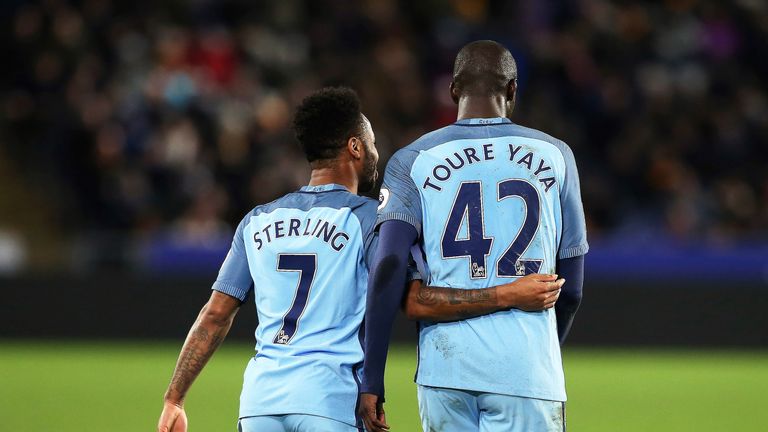 Photo credit: skysports.com
Yaya Toure, the engine of the City's midfield, has just played 5(2) games in the league so far and has produced some brilliant displays already. He has always been looking forward for working with Pep and he has returned when his manager needed it the most. Yaya started his first league game of the season against Crystal Palace on 20th November. He marked his return in an emphatic fashion as he scored a brace in City's 2-1 win over Palace.
Lack of game time did not affect his finishing either as he scored his 76th and 77th goals for City to mark a perfect return to action and help them secure a vital victory in the race for the Premier League title. He rolled back the years to put in a commanding performance in the middle of the park. He was ultimately named the Man of the match.
He was also instrumental in the wins over Hull City, Arsenal and Watford. He bossed the midfield producing great performances in front of a vulnerable defence. His role was really important as City had to cope this important period without Fernandinho who is arguably their player of the season so far.
His overall play against Hull City was brilliant and the stats above support the fact. He scored the opening goal from the spot as he made it 10 goals from 10 spot kicks in the league. He has scored three goals since he started this season and it is not a bad fact considering that he scored the three goals in just 5 starts. His form also seems to be better when compared to the previous seasons. After a very successful 2013-14 campaign, Toure's form faded in the last two seasons. He only scored 10 goals and made 1 assist in 29 appearances in the 2014-15 season and 6 goals and 5 assists from 32 appearances in the last season. Defensively he made 43 tackles last season and just 29 the year before.
During the title winning campaign of 2013-14, Toure scored a whopping 20 goals with 9 assists also completing 54 tackles in the league. This slump in form along with issues involving his agent and Pep was paving his way out of Manchester. But after great displays Toure has got himself into the good-books of Pep and seems as though he is a major coup in Pep's plans for the rest of the season. He seems to have revived from the slump and also his fitness has improved. After the win over Hull, this is what he had to say:
"I look like a kid, just enjoying playing football and helping my team-mates and the fans. It's very important to me.
"I'm used to winning Premier Leagues, and I think it's second two times, and I want to win another.
"I know it's going to be tough but we have to keep going because Chelsea are very good this year."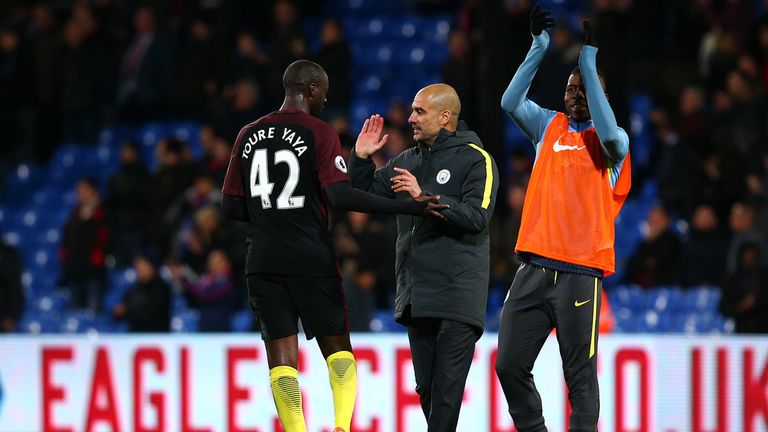 Photo credit: www.skysports.com
Pep also spoke about the importance of his fitness and the presence of such a guy like him on and off the field. He says that his presence make the young players thrive for more and he is an inspiration to them. He has also been raising the tempo when the team is down and always brings the team together in tight situations.
In a recent interview he said about the important thing he always had in mind. It was to make City bigger than United. "I came to this club to make history," said Touré, who after spending some time on the fringes of Guardiola's squad, is back on centre stage. "I want this club to change, I want this club to be bigger than United. I know it's going to be a lot of work but that's my dream."
Toure's latest performances have led Guardiola to think about his inclusion in the Champions league squad for knock out stages. With Gundogan out for the rest of the season, Toure may well occupy his position and be a vital cog in the near future as he has involved more in Guardiola's plans so far. With 20 more games to go in the league and most of the Champions league matches to come by, we can expect Toure to play a major part in that midfield along with the likes of Fernandinho, Silva and de Bruyne.